Permanent link to this article: https://www.bodrumpeninsulatravelguide.co.uk/dolmus-turgutreis-bodrum-2016/
Today's Bodrum Weather
Free QRTG – Mini Travel Guides
AVAILABLE NOW: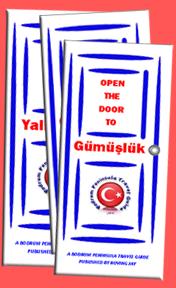 Join my QRTG mailing List and I'll let you know when the next Quick Reference Travel Guides is published.
So Far we've published QRTGs for Yalikavak, Turgutreis, Turgutreis Beaches, Gumusluk, Kadikalesi, Bitez Beach, Gundogan, Akyarlar, Torba, Bodrum Town & Torba. Click here to view all available Quick Reference Travel Guides.
Join my Guide Book Mailing List
Itinerary Inspiration

Click here for help on planning your Bodrum Peninsula itinerary
All site Content Filter
Click on a Cagegory to view related articles
Click on a Tag to view related articles
What are your Top 5 Picks?
View my Site Map